SC Series Power Rail Type Construction Hoist SC200/200
1. Introduction of Construction Hoist
Passenger Hoist Construction are an efficient and safe means of transporting people and materials on a construction site. Construction hoist helps increase productivity and safety, thereby saving time and money. The max. capacity of BQ SC series construction hoist could comes up to 3 ton.

Our this model of construction hoist has the same design with alimark construction hoist. There are two types for Construction Hoist Mast section. One is painting type, and the other is galvanized type. For the inverter control, customer could choose Vfd Control Construction Hoist and non Vfd Control Construction Hoist.

Safety features of BQ Construction Hoists
To maximize safety, BQ hoists are equipped with motor brakes, a mechanical Safety Device, limit and safety switches.
Running smoothly at starting and braking.
Small start-up current, energy saving.
Low mechanical wear with long service life

2. Parameter of Sc Construction Hoist

Model: SC200/200

Single Cage or Double Cage: Double Cage

Max. Load: 2000kg

Work Speed: 0-63m/min
Standard Cage Inner Size: 3000*1500*2200mm
Mast Section Size: 650*650*1508mm
Cable Assembly System: Power Rail

3. Product Photo of One Set of Used Construction Hoist in Overseas Customer's Working Site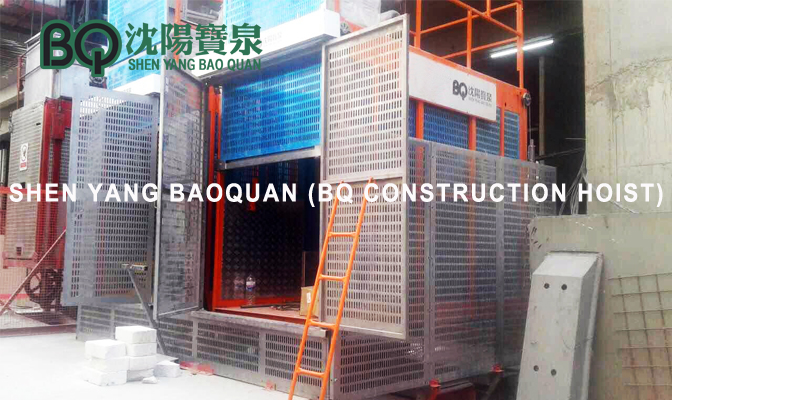 4. Other Models of BQ Construction Hoist
| | | | | | |
| --- | --- | --- | --- | --- | --- |
| Specification | Type | Lifting Capacity | Lifting Speed | Motor Power | Safety Device |
| Single Cage | SC100 | 1000kg | 0-63m/min | 3*13kw | SAJ40-1.6 |
| Single Cage | SC150 | 1500kg | 0-63m/min | 3*15kw | SAJ40-1.6 |
| Single Cage | SC200 | 2000kg | 0-55m/min | 2*23kw | SAJ40-1.6 |
| Single Cage | SC200 | 2000kg | 0-63m/min | 3*18.5kw | SAJ50-1.6 |
| Double Cage | SC100/100 | 1000kg*2 | 0-63m/min | 3*13kw*2 | SAJ40-1.6 |
| Double Cage | SC150/150 | 1500kg*2 | 0-63m/min | 3*15kw*2 | SAJ40-1.6 |
| Double Cage | SC200/200 | 2000kg*2 | 0-55m/min | 2*23kw*2 | SAJ40-1.6 |
| Double Cage | SC200/200 | 2000kg*2 | 0-63m/min | 3*18.5kw*2 | SAJ50-1.6 |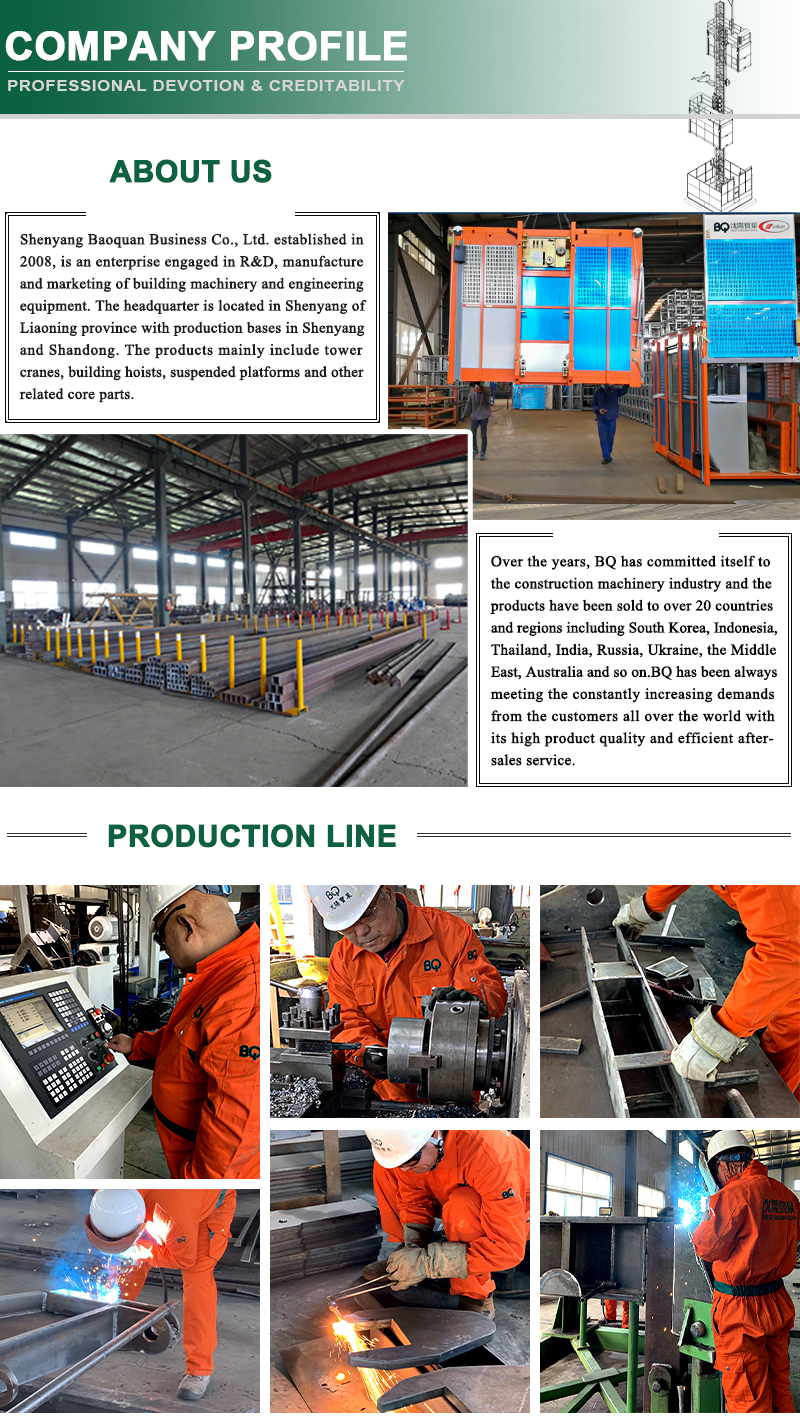 Product Categories : Construction Hoist